DCFS Secretary Recognized as Angels in Adoption Honoree at National Event in Washington, D.C.
BATON ROUGE - Secretary Marketa Garner Walters of the Louisiana Department of Children and Family Services (DCFS) is being honored today (Nov. 14, 2019) in Washington, D.C., as a 2019 Angels in Adoption® award recipient for her outstanding advocacy for adoption from foster care. Congressman Cedric Richmond nominated Walters to receive the honor from the Congressional Coalition for Adoption Institute (CCAI), which coordinates the Angels in Adoption® Program.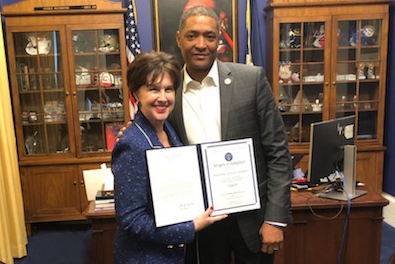 Walters is being honored for her contributions to the work of child welfare in Louisiana, including:
Implementing the Quality Parenting Initiative, a team approach to foster care that puts biological families, birth families and the child welfare system together for the benefit of children in care, removing traditional adversarial barriers amongst caregivers;
Working with the Dave Thomas Foundation to put Wendy's Wonderful Kids adoption recruiters in each region of the state, focused on some of the most challenging and complex cases, including teens, siblings and children with medical or special needs; and
Elevating the work of foster care and adoption in Louisiana by aiding First Lady Donna Edwards in launching the Louisiana Fosters initiative, which has galvanized the faith-based, nonprofit and business community to each find their role in serving vulnerable children and families.
Walters also accepted a U.S. Department of Health and Human Services Adoption Excellence Award earlier this week on behalf of the DCFS Child Welfare Division for "extraordinary contributions made supporting positive permanency outcomes for children in foster care."
"All children deserve a loving and stable home, where they can grow and thrive. When families thrive, so do schools, businesses, and communities. I have long supported and been an advocate for Louisiana families going through their adoption process. Under Secretary Walters' leadership, Louisiana's child welfare system has had tremendous success in partnering with and supporting families and caregivers to help more children achieve the permanency they deserve, whether through adoption or reunification with their families," Richmond said.

Louisiana Institute for Children in Families (LICF) co-founder and president of its board, Kim Carver, recommended Walters as Richmond's honoree.
"A direct correlation to Marketa's achievements as DCFS Secretary is the record number of adoptions out of foster care that Louisiana has experienced over the past four years. She has garnered the admiration and respect of adoption and foster care advocates in the state and around the nation and is a stellar Angels in Adoption honoree," said Carver.

The Angels in Adoption® Program is CCAI's signature public awareness event and provides an annual opportunity for members of the U.S. Congress to honor the good work of their constituents who have enriched the lives of children in the United States and abroad. This year, more than 120 Angels are being honored through the 21st Annual Angels in Adoption® Program.

"The Angels in Adoption program gives a platform to the families, advocates and experts who so often serve quietly and faithfully behind the scenes yet make a huge impact on behalf of children in need of families. Together with the Adoption Caucus, we are thrilled to shine a light on the extraordinary work of our Angels and the power of adoption," CCAI Interim Executive Director Bethany Haley said.

CCAI is a 501(c)(3) nonpartisan organization dedicated to raising awareness about the tens of thousands of orphans and foster children in the United States and the millions of orphans around the world in need of permanent, safe and loving homes through adoption. Founded in 2001 by the co-chairs of the bicameral, bipartisan Congressional Coalition on Adoption, one of Congress' premier caucuses, CCAI works with the Coalition to eliminate policy barriers that hinder children from realizing their basic right of a family and more effectively raise congressional and public awareness about adoption.

For more information about the CCAI, visit www.ccainstitute.org.

For more information about adoption from foster care in Louisiana, visit www.dcfs.la.gov/adoption.